---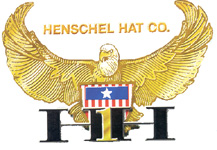 Well known for the quality of their leather hats, Henschel Hat Company also does straw hats. I'd like to say a bunch of really outstanding stuff about all that, but truth is, they need some Summer income too. What they do, is a softer straw body with a good headliner, that conforms to the shape of your noggin really well. Not everybody wants a stiff hat.
These hats are considered dressy to casual. However, at this price, you can comfortably do your yardwork, sit on the pontoon deck and fish, take a hike to the nearest waterfall, ride tractors, ride 4-wheelers, or anything else you want to do, and keep the cancer off your face, neck & ears!
Also: If you are looking for cool and comfy, be sure to take a look at the "Breezer Hats" by Henschel Hats.
For thousands of years, true hemp has been the fiber of choice for knitter and weavers all over the world. Hemp fiber is three times stronger than cotton, twice as resistant to abrasion and naturally resistant to mold and bacteria. And because it's a natural renewable resource, which requires little or no chemical cultivation, it helps preserve the environment for generations to come.
Please be patent while we update our website!
New styles and pictures coming soon!
---
Our Henschel Straw Collection contains a huge selection of hats made from various straw materials including raffia, Milan Flexible Straw and Genuine Panama Straws which are hand crafted in Ecuador. (Genuine Panama is considered by many the best of dress hat straws.)


See a whole 'nother selection of Casual, Comfy, Western Straws, similar to this one, by clicking here!
Burnished color. Pinched crease of the crown actually strengthens the hat. Authentic Henschel Western Hatband.